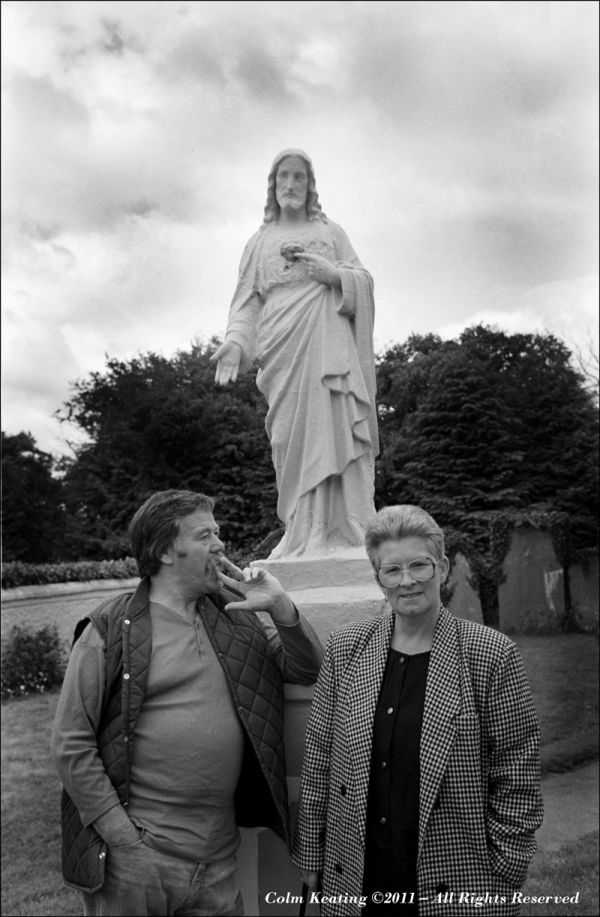 Liam, irreverently picking at his teeth, in front of the statute of the Sacred Heart. He had his own take of the old hymn "Sweet Heart of Jesus" - his was "Sweet Heart of Jaysus" and he sang with the true blue flat Dublin accent.

It was taken in the grounds of Ballyhanus parish church, Co. Mayo prior to the wedding of our mutual friends Cearbhall O'Meadhra & Anna Herr. Taken early 1990s.

Though a very spiritual man, Liam didn't think much of organised religion, but always said that "Me and Himself have our own understanding". He was delighted when Fr. Peter Lemass [of Radharc fame] asked him if he might let him use his Ballyfermot grown wine to celebrate the opening Mass for the Ballyfermot Arts Week.

Peter Lemass, who enjoyed a game of golf, cancelled his golf membership when the pope didn't stop off at Our Lady of Lourdes Church, Sean McDermott Street. The Papal Car merely slowed down as it passed by. One local man, waiting at the Church, turned to Peter and said - "tonight father, Matt Talbot went back on the drink!" - Matt Talbot's remains are resting in the Church.
Location: Ballyhanus, Co. Mayo
Photographer: Colm Keating